Los Angeles Election Division certifies Yehuda YJ Draiman as a Mayoral Candidate in the March 5, 2013 Elections.
News Bulletin - Draiman News Agency - Tuesday, Nov. 27, 2012

Yehuda YJ Draiman is certified as LA mayoral candidate to be on the ballot in Los Angeles elections which will be held on March 5 2013

The most vibrant city with a great future with our residents help.

"Let us take back our city and make it Los Angeles governed by the people for the people"

Thank you for visiting the YJ Draiman for Mayor of Los Angeles Web Site.

Within a short time, the voters in LA will have an opportunity to make history! For more than 30 years we have been ruled by incumbency and incompetence, waste and inefficiency, fiscal irresponsibility, which has brought us to the verge of financial disaster. It is time to change the elected officials in LA City Hall.
Or, do you want more of the same and lose core services, pay more taxes, face unemployment and have the roof over your head taken away from you.




Los Angeles Election Commission certifies Yehuda YJ Draiman as a Mayoral Candidate in the March 5, 2013 Elections.
News Bulletin - Draiman News Agency - Tuesday, Nov. 27, 2012
Yehuda YJ Draiman is certified as LA mayoral candidate to be on the ballot in Los Angeles elections which will be held on March 5 2013 –
http://yjdraimanformayor.org
Y.J. Draiman. - Candidate for Mayor of Los Angeles 2013

YJ Draiman for Mayor of Los Angeles - 2013


Honesty, Integrity and service to the people of Los Angeles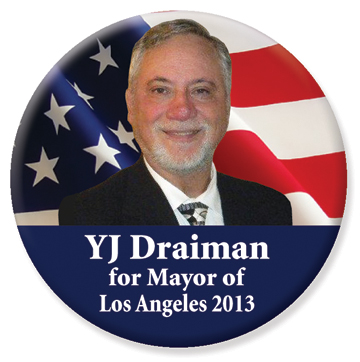 Draiman's Plan for Fiscal Sustainability
---
LA faces a chronic budget crisis that threatens critical services and weakens our competitiveness against other major cities. To meet that crisis head on, city government has to be reinvented. It has to deliver better services to residents and businesses and better value to LA taxpayers. Transparency and accountability must be improved, and LA will have to make tough budget choices at the same time that it invests in and plans for the future. Draiman's Government Reinvention and Fiscal Sustainability Agenda details more than $900 million in efficiencies and better use of existing resources to support reinvention and balance LA's budget.
Immediately Address the City's Fiscal Imbalance
LA's 2011 budget relied heavily on reserve funds and stimulus money that is no longer available. Delay in addressing the financial crisis won't work, and Draiman will begin immediately to implement reforms and balance the budget when he takes office. Just like households and businesses around the city have to do, having some money left at the end of the year is an important discipline and a sign that the city has started to live within its means.

$600 million dollar plus proposed budget solution

Freeze spending and order efficiency measures on day one
Draiman's budget agenda outlines strategies, from setting and enforcing performance benchmarks to streamlining the bureaucracy that will drive down government spending. Strategies that produce the most immediate savings will be prioritized and implemented on an expedited basis to outperform the 2012 budget targets. Draiman will freeze spending, and department heads will be directed to review all operations and produce a plan within sixty days of taking office to cut city spending by more than $95 million from 2012 budgeted levels.
Make Performances Measurement Public and Set Targets for Cost Reductions and Service Quality Improvements
LA's performance measurement program is ineffective, lacks focus, and has two fundamental flaws. First, the program does not establish the unit cost of services or benchmark services against other comparable public and private sector
leaders. Second, the program is not subject to public review and regular reporting to the City Council. Draiman will change that.
Draiman will tie performance measures to a limited number of clearly defined goals for the City. Managers will be held accountable for meeting or beating goals and employee training and evaluation will be driven by continuous improvement of both service quality and efficiency. To support continuous improvement, critical services will be prioritized and benchmarked against other comparable cities and public and private sector top performers for both the quality and cost of service. There will be measurable cost reduction and service improvement targets for each performance measure, they will be reported to the public and City Council, and quarterly progress reports will be issued. The reporting will include an easy to access dashboard and exception report that flags any measure that doesn't meet the target or shows a negative performance trend.

Empower commissioners with "charter agency" status
Draiman will bring the best people to City Hall to manage LA departments, and give them the autonomy and flexibility they need to achieve programmatic goals in innovative ways. By creating a "charter agency" status, Draiman will set performance measures and then free commissioners to achieve goals by increasing management flexibility and reducing bureaucratic interference. He will hold leadership teams accountable for results and ensure they remain accountable to the public and City Council, and create incentives to outperform benchmarks, like allowing departments to share budget savings so that they can invest them in better programs and services. Draiman's rigorous performance management plan will save $50 million.

Streamline the bureaucracy, eliminate outdated and duplicative work processes and focus on front-line service delivery to save $110 million
LA's bureaucracy is outdated, inefficient and diverts scarce resources from critical services. Draiman will reorganize government to improve accountability and management effectiveness and reduce costs by $140 million.
This is not about simply consolidating department or cutting positions – it's about rethinking the way that City government is structured and operates.
The greatest cost savings come from reducing layers of management bureaucracy and consolidating redundant tasks, producing $100 million from increased efficiency and productivity. Draiman will also look for opportunities to merge departmental functions and establish clear costs for internal services resulting in $40 million in savings. For example, General Services and Fleet Management could be merged, and the Department of Innovation and Technology could fold into the Budget Office. The consolidation and mergers will save money through strategies that include eliminating unnecessary layers of management and improving performance and accountability for all city services – from buying energy to programming city buildings and innovation in city fleet and transportation. Technology expenditures will focus on improving services and saving money instead of expensive systems and inflated salaries. The cost of internal services like fleet and building maintenance, billing and payroll processing will be benchmarked and cost reduction targets will be set and met.

YJ Draiman for Mayor ID 1337783






"Let us take back our city and make it Los Angeles governed by the people for the people"





Paid for by YJ Draiman for Mayor 2013 • 
FPPC ID# 1337783
9420 Reseda Blvd., Unit 274, Los Angeles, CA 91324
Additional information is available at

ethics.lacity.org